CCTV Installation Hemel Hempstead
Either is CCTV Install, Intruder Alarm or any other security system.
We are here to help you.
Our trained engineers can install most of modern security systems including external motion detectors, external lighting.
On top of that we will make our systems work on your mobile phone.
3 Years Warranty for each of our services made
CCTV & Intruder Alarms can work together on the same app!
Round the clock protection!
No matter where you are, as long as you have internet connection, you can monitor your systems remotely from any mobile device.
Each system we design is tailored for your property. This lets us make sure you do not overpay for features that you necessarily need!
We aim to provide end to end installation in less than a week from the initial quotation!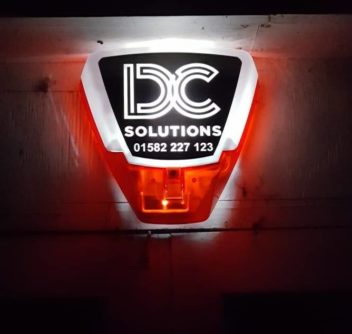 Let us know what bothers you the most!
We will come up with solution for you to have a peace of mind at any times.
Our aim is to make your properties as safe as possible.
Aftercare that you cant compare with any other installation company!
Choosing local installer is always better when something goes wrong!
Peace of mind is worth more than anything!
Main difference between Wired & Wireless Alarm System
A security alarm is a system designed to detect intrusion and
unauthorized entry into your home or public area.
If you have experienced theft, a break-in, vandalism or other forms of intrusion and property damage or you merely want to prevent them from happening. Security alarm systems may be the right choice for you. It's vital to protect your home and business with a variety of intruder alarms, surveillance equipment sensors and controlled entry systems.
They help you to build a secure and reliable home. Research has shown that homes with a security system are less likely to be burglarized than those without them. There are two types of alarm systems, wired and wireless. Both offer just enough security to deters potential burglar.
One of the most significant differences between the wired and the wireless alarm systems is the cost. Wired security systems tend to cost less in overall use due to no separate batteries in each device. Instead one central battery powers up the whole system and its being charged directly from mains. Wired security systems installation includes need to run wires so the most convenient installation time is when you are refurbishing your premises or its under the construction. One of the best features of a wired alarm system is that they don't require batteries so you don't have to worry about changing them frequently to stay connected and maintenance cost is reduced to the minimum.
Benefits of Wireless Alarm System
First of all Wireless alarm systems are mobile, if you rent your property that means in case of relocation you can easily take your security system with you. It is also easier to place them in hard-to-reach places since they don't depend on wires to work properly.
Wireless Alarms works to the same standard as its wired brothers.
Unfortunately most of DIY Alarms are not good enough. And quality of these is not the best. That's why lot of home owners have bad experience with them.
Most important is to use wireless alarms from reputable companies who can maintain and warranty their work. In case of any issues you can always turn to your installer for a help.
Another benefit of wireless installation is time. Full system can be installed and programmed under 3 to 4 hours depends on the size of your property.
In the conclusion quality wireless alarm systems may cost more then wired systems to maintain.
If you would like to know how much it cost to install and manitain wireless alarm system please do not hesitate to contact us for a free quote.
Aside from the fact that home security systems protect your valuables, there are countless of other benefits you can derive from a secured home. According to the Electronic Security Association, nine out of ten burglars will pass up a house if they know the house is armed with a security system. It also helps to protect other homes in the neighbourhood especially if multiple homes
have security systems. It makes individual homes less vulnerable to thieves and burglars.
Security Systems Installers
We design, install and maintain each of systems that we offer.
We can diagnose and repair most of intruder alarm systems
Brizy is a front-end page builder where what you see is what you get. We designed it so you can be in complete control.
Flood & Emergency Lighting
Problem with a lighting? We are here for you. Do not hesitate to give a call.
We can fault find and fix any analog or modern IP system.
Wide range of intercoms and door entry panels.
Security Services tailored for you
Guarantee of the best value for money!